Isolationism and Dejima Island
Dejima Island in Nagasaki is an artificial island built in 1634 as a part of the government's closed-door policy. The government's isolationist policy was intended to stop the spread of Christianity and monopolize trade with foreign countries. Under the government's policy, only China and Holland were allowed to trade with Japan.
Dutch merchants seeking wealth in Japan set up houses on Dejima Island and traded aggressively with Japanese people. For 200 years, Nagasaki grew and developed as the only point of access to Western culture.
On Dejima Island, not only goods but also the newest Western education in the form of Dutch studies was brought into Japan. With the growth of Dutch studies, people who had the foresight to see the coming of the modern world visited Nagasaki. Shigeyoshi Nabeshima of Takeo was among the people who visited Nagasaki.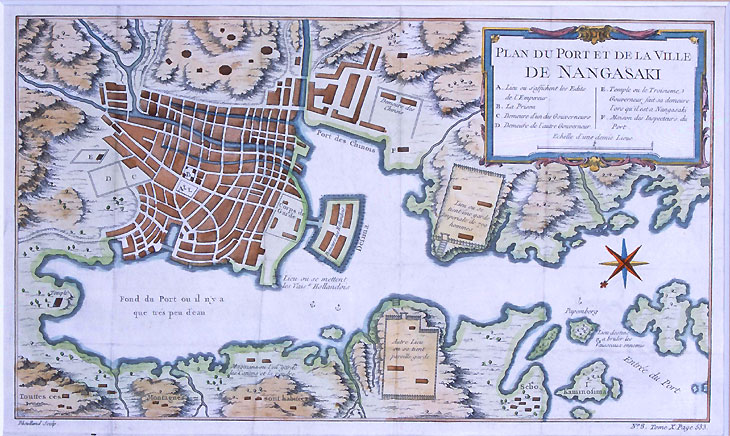 PLAN DU PORT ET LA VILLE DE NAGASAKI (Nagasaki figure)
Copperplate engraving, France, Dated 1752, Takeo City Possession

TOP
Copyright (C) Takeo City Library&Historical Museum